3rd Aug. 2020, Kathmandu
Jhalanath Khanal is a renowned name in Nepali politics and in the country's communist movement. Former Prime Minister of Nepal and a senior leader of the ruling Nepal Communist Party, Khanal has made immense contributions for the unification of communist party, from the then Panchayat Regime to Federal Democratic Republic.
Khanal, who was elected General Secretary of the then Communist Party of Nepal (CPN) Marxist-Leninist (ML) at the age of 33, expanded the party across the nation and proved self through his strong leadership. After the success of revolution against the Panchayat System, Khanal was entrusted the responsibility of Ministry of Agriculture, Forest and Land Reforms in the interim cabinet in 1989. Following his incessant victory from Illam district in parliamentary elections, he was appointed Minister for Information and Communications in 1996, and 35th Prime Minister of Nepal in 2010. Here is his brief profile story based on interview:
Childhood
Born in 2006 BS in eastern district Illam, famous for the tea gardens, Jhalanath Khanal was the seventh child among thirteen in a fifteen-member family. Khanal was a bright student from very early days of childhood that he never stood second until the lower secondary level of schooling. His keen curiosity to learn new things and inquisitiveness helped him to stand apart from others. He was also the first in the family to study English language. He was only in Grade 8 when he started learning about China through a weekly magazine 'Chin Sachitra' which was available in Hindi language. As soon as he became a subscriber of the magazine upon a request from his friend from Sankhuwasabha district, he was fascinated by China and Chinese ideologies and system. He was very much impressed by the country maps, striking pictures and knowledge-provoking articles published in the magazine. Since then, Khanal started knowing about the world affairs. The leader, who started learning about China at the tender age, was fascinated by Communist ideology since 2020 BS.
Dream of an Engineer to Road of Politics
Khanal moved to the capital city Kathmandu after his secondary level school examination to pursue further studies in Science faculty in 2023 BS. He always dreamt of being an engineer in the future. Following the same dream, he tried to get enrolled in Science colleges like Amrit Science and Tri-Chandra College, but unfortunately couldn't get any seats. His first revolution against the system started then. Khanal along with his friends protested for at least two weeks demanding an increase in the seats for admissions. They succeeded, and he was admitted to Tri Chandra College for ISc studies. 'Not just me, but some 300 students were admitted in Tri Chandra College after our protest," Khanal recalls his student life. After two years of study, when they finally appeared in the board examination, questions appeared beyond the syllabus leading to student protests and cancellation of exams. It was then when he realized the need of change in ruling system in the country. Students revolted against the system and appeared in re-exam which was held following the direction of the then King Mahendra Shah. But the results were totally shocking. "Among 429, only four or five students passed, I was among them. I was expecting first division based on my writing but I was only made passed with minimal numbers. It led to frustration against the education and political system," Khanal, who was the only student to pass ISc from his home zone Mechi, recalled. The annual examination deviated Khanal's path towards politics from engineering, as he announced to end such oppressive system which didn't favor the dreams of citizens. Since then, his dedication towards politics never declined and he never had to look back.
From a Science Teacher to expansion of Communist Party
Khanal became active to ensure student rights since 2021 and was elected as the President of Mechi Students Union in 2023-24. The very next year, he participated in the third national convention of All Nepal National Free Students Union. When Khanal was moving towards the path of communism, communist revolution was in chaos in Nepal. There were many party divisions, all seeking a new direction. At the same time, China was undergoing Cultural Revolution while India was facing Naxal Movement. After not being able to find enough clarity within any communist factions in the capital, Khanal moved to western part of Nepal. He taught Science in the city of Birgunj for a while, and later moved towards Baglung district. He started teaching the same subject in Galkot Secondary School, but more than the course lessons, he was engaged in teaching arts, sports and many extracurricular activities. Besides teaching, the young teacher also formed a student union, teacher union and even local farmer union as part of party activities. However, it was only after that Khanal formally became a member of Communist Party. Since there were many groups within the Communist Party, it was quite confusing for Khanal to select one particular to get the membership. After several requests of Baglung District Committee member Mathura Prasad Shrestha, he became the party member. Though he did not fill up the form as per the then rule, he took the oral oath. Khanal, who was raising voice against autocracy of the ruling system, was being monitored by the administration for the same. They even made few attempts to arrest him. "Rights of public were snatched by the rulers. There was no freedom of speech and writing as well. Those, like me, who were fighting for those rights were always in the gaze of system and the forces were active against us," Khanal recalls the situation.
In 2026 BS, Khanal went underground for the first time for few months after his activities were noticed by the then Panchayat regime. Leader Chitra Bahadur KC as along with him. After being underground for three months, KC travelled to Kathmandu to discuss the situation and future strategy with the senior leaders. They were advised not to stay underground and rather be active in work and be ready even for future arrests, if any. Later, Khanal was arrested and was compelled to spend a jail term for 8 months in Baglung. But his arrest has an interesting story. Since he was a Teacher, he was supported by locals, teachers, students and even parents of students. So, before heading towards the jail with police personnel, he publicly gave a speech against the ruling system in a big gathering, which raised awareness among people to some extent. He was freed after 8 months in a condition that he will not return to Baglung district.
Party expansion in home district
After being feed from the jail, Khanal went back to his home district Illam and worked for expansion and promotion of the party. He continued teaching as well. He was arrested couple of times, but he was determined to bring change in the ruling system. He formed a district committee in 2027 BS including five vigorous party members, and actively got engaged in taking people, including students, farmers, labors, women, into confidence. In the mean time, there was a Jhapa struggle, which faced a defeat. He started teaching in Bhanubhakta Secondary School and worked for party internally. In the short course of time, he formed a Free Student Union there as well which erupted a new wave among students and the rural life in the area. Meanwhile, school students staged a general strike with some demands followed by which Khanal was arrested by the district administration and was kept in jail for 14 months in Illam. He was arrested again for 6 months in 2031 BS during the coronation of King Birendra Shah citing peace and security. He went underground on the day of release itself. Next year, the communists' gathering in Biratnagar formed an All Nepal Revolutionary Coordination Center, in which he became a central committee member. The new center had aimed at establishment of a unified party by strengthening relations with all the communist revolutionaries. At that time, CPN Fourth under the leadership of Mohan Bikram was the largest communist union but the coordination center grabbed everyone's attraction, which eased its expansion.
He was appointed as the Secretary of the Coordination Committee in 2033 BS, but he was arrested right after and was jailed in Jhapa for at least 3 years. The struggle continued. He was in and out for prison several times and there were many restrictions to raise voice against the then ruling Monarchs openly. Many factions united in the course of time and CPN ML was formed in 2035 BS. The then King Birendra Shah held referendum in the year 2036 BS following pressure of people's protest for democracy and announced to lift the jail-term of many. Khanal was also released in April next year on the occasion of Nepali New Year.
Party leadership and thereafter
After two years of party formation, he was appointed as the central committee member and was assigned to look after All Nepal Indian Immigrants Association. He stayed in India for two years and worked for the unification of different groups. When he got back to Kathmandu, he became the chief of party's Valley Committee. "In coordination with the party General Secretary CP Mainali, I intensified party works in the valley. At that time, there were intensive and serious discussions within the party on various issues including political freedom or party freedom, action plans, revolution and role of people unions, party's guiding principles, international communist revolution, perception towards socialism and Chinese leadership among others. CP Mainali was not being able to handle the party in terms of holding those discussions and giving outlets which raised question on leadership within the central committee," Khanal recalls the days prior to his election in the leadership role. It was then when he was appointed the General Secretary of Communist Party of Nepal through the 7th meeting of central committee held in Siraha district. Party strengthening was the major highlight of his tenure.
Just at the age of 33, responsibility of the country's strongest party was on Khanal's shoulders; however he resolved all the differences and ideological criticisms as the General Secretary. Khanal was in that position for at least 8 years till 1990. He not just successfully expanded the CPN ML party across 74 districts of the country, but took the communist revolution to a new height. "We had decided to hold 4th party convention in 1990, and decided to entrust Madan Bhandari with the post of General Secretary. Though he was in leadership position, I continued my works. When the people's evolution kicked off, I, Madan Bhandari and Madhav Kumar Nepal were in high command. I formed the joint communist force through dialogue and talked with Nepali Congress leaders Ganesh Man Singh and Krishna Prasad Bhattarai to form a base of joint revolution," leader Khanal informed the then developments. People's Revolution started in mid-March 1990, which ended after 53 days bringing a new change in the South Asian country. They fought to completely dissolve the then Panchayat System and to establish the multi-party democratic system. Considering their demands, the Monarchs decided to dissolve the Panchayat System and to form an interim government with the agitating forces. Khanal was entrusted with the responsibility of the Ministry of Agriculture, Forest and Environment and Land Reforms. That government succeeded in promulgating a new constitution and holding the general elections within a year. It was then when Khanal was elected in House of Representatives through parliamentary elections from his home district Illam.
"In 1991, we formed CPN UML by merging CPN ML and CPN Unified and held the 5th national convention. The convention decided to adopt 'People's Multi-Party Democracy' as the most significant concept propounded by leader Madan Bhandari. I had three major differences in that convention: One: We shouldn't leave the agenda of 'People's Democracy' as party line, Second: Agriculture Revolution program shouldn't be reform-based but revolutionary and Third: Although there are 14 features of Multi-party Democracy, they are mainly elements of parliamentary system," Khanal explained his differences.
The convention held the elections of central committee, while Khanal wasn't included in the standing committee due to personal rage of Madan Bhandari. "Majority of the central committee members were against that decision, but nobody could speak in front of Madan Bhandari. I was discriminated by the comrade himself at that time, thus I had challenged him that I had the capacity of making significant contribution in the party," leader Khanal recalls the heated moment.
However, Madan Bhandari was killed in a mysterious road accident shortly after the party's general convention. Khanal was in the US trip with the newly elected parliament members at that time. "It was a big loss for our party. I shortened my trip to attend his funeral ceremony. It wasn't merely an accident, but a murder planned by national and international forces," he shared remembering the contributions of late Bhandari.
Khanal served as a minister several times. Being a standing committee member and head of foreign relations department for at least 15 years, he made a huge contribution in strengthening party's international relations. When the then King Gyanendra Shah executed the royal coup in 2005, all the parties were restricted and majority of leaders were arrested. Amid such critical situation, Khanal took the responsibility of Acting General Secretary and led the historical democratic revolution against the autocratic Monarchy.
The situation was tough but Khanal handled it vigorously by planning an alliance of seven parties against Monarchy. In a short period of time, the People's Movement was taken to a nationwide scale and the then King was forced to free the arrested leaders. Khanal also played an important role to garner international support to the movement. For the same, he also visited China in 2005 and briefed about Nepal's political development to the Chinese leadership. In 2006, Maoist's Civil War ended, and Comprehensive Peace Accord was signed. The revolution resulted in the big political change as Peoples Republic was established by overthrowing Monarchy. Khanal played a significant role in bringing the historical transformation in Nepal.
In the Constituent Assembly elections of 2008, the then CPN UML General Secretary Madhav Kumar Nepal faced a huge defeat, so Khanal was elected in the post once again. He also became the parliamentary party leader for at least five years. The party held the 8th general convention in 2009 when Khanal was elected as the party Chairman by defeating contender KP Sharma Oli with a wide margin. He became the 35th Prime Minister of Nepal in 2011, and played an important role for constitution promulgation and to complete the remaining tasks under peace process. He also succeeded in raising the party image in second constituent assembly elections.
Shortly known as JN Khanal, he served as party standing committee member and as senior leader afterwards. He is also the standing committee member of International Conference of Asian Political Parties (ICAP). At present, after the merger of CPN UML and Maoist Center to Nepal Communist Party, Khanal is serving as senior leader, secretariat member and head of party policy and research department.
Love towards literature and personal life
Khanal was fascinated towards literature from a very tender age. Reading about the Chinese stories from Grade 8 to reading novels and stories, he was always keen for language, art and literature. While in prison, he wrote few poems and later published a poetry book as well. He has over 15 publications in different genres. "I have huge interest in literature, but have not been able to allocate time for it due to political engagements. May be I will publish more in the future," he expressed his wish.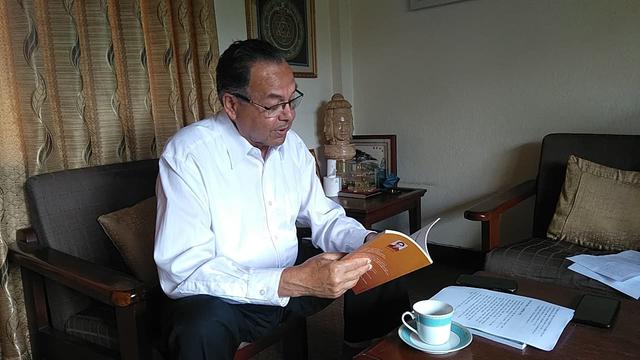 Khanal got married in 2039 BS at the age of 33. His wife was a member of underground women team then, a district committee member in Kathmandu. His marriage was conducted with just an expense of Rs 273 amid a simple ceremony, attended by some 20-25 friends. Their marriage was conducted by exchanging garlands instead of using vermillion powder or beads as in general rituals. Khanal recalls the union as an important decision, when the party women outfits were facing a tough time. His wife taught Physics in Amrit Science College for a long time, and recently got retired. He has a single son who is involved in business.
Relations with China
Leader Khanal doesn't remember the year of his first visit to Beijing, but he has visited few times. He had a good relation with the Chinese leaders even before the establishment of formal relation with the Chinese Communist Party. CPN UML had invited CPC leaders in their every convention. Since he headed the foreign relations department of the party from 1990 to 2063, he could maintain cordial cooperation between the two parties. Last time when he visited China, he had met Vice President and other leaders, while he could meet the Chinese President Xi Jinping in Nepal last year.
Khanal believes the Chinese Communist Party has a different philosophy, with socialist modernization as its key feature. He recalls 1978 when China adopted a new way, opening to the world and reformation. He is impressed by China's production force and its journey towards being the first economy of the world in few years. In a query about similarities with CPC and NCP, Khanal says, "We cannot seek similarities between these two parties. China's resolution was military based and for 28 years, while our revolution was people based and quite longer. CPC is more determined, while NCP is little confused." He is glad that CPC and NCP enjoy relationship based on equality. "We have a relationship of both brotherhood and friendship"
Khanal has visited at least 40 countries and has been able to maintain good relations and achieve national and international experiences.
Opinion about MCC row
Senior leader Khanal is the coordinator of a three-member high level task force formed to study Millennium Challenge Corporation (MCC) grant of the US. The 500 million US dollars worth MCC pact was signed by Nepal in 2017. Upon thorough study and consultation with the experts, he finds the MCC agreement quite demeaning. "There are certain provisions in the agreement which undermine national sovereignty and independence. Nepal cannot be a member of MCC without amendments. We have noted at least 35 such points, which need revisions," Khanal shared.
According to him, Nepal cannot be a part of Indo Pacific Strategy of the US or any military strategy which is against China. As an independent nation, Nepal wants to maintain good relations with all the countries, be it China, India or the US. He opined that the written statements should come out from the US side to clarify MCC and Indo-Pacific Strategy. "There should be an equal treatment in any sort of agreement. We cannot sell our sovereignty," he remarked.
For those who are labeling the tag of Pro-China to Khanal for speaking against MCC, he has a clear answer. "Nepal should take benefits from all the countries. There shouldn't be any terms like Pro-China, Pro-US or Pro-India. We should be Pro-Nepali," he expressed with determination and commitment.
(The Nepali version can be found here: //www.pariwartankhabar.com/2020/08/03/166705/)