By APD writer Melo M. Acuña
MANILA, Feb. 8 (APD) – A team from the Department of Foreign Affairs (DFA) is scheduled to fly from Clark or Diosdado Macapagal International Airport in Pampanga province to Wuhan City to help Filipinos scheduled for repatriation from the epicenter of the 2019-nCOV Acute Respiratory Disease. Five officials from the Department of Health will complement the DFA group.
The eight-man team from the Office of the Undersecretary for Migrant Workers' Affairs and the Department of Health will board the Royal Air flight arranged by the Department of Foreign Affairs after being given the necessary clearance by Chinese authorities.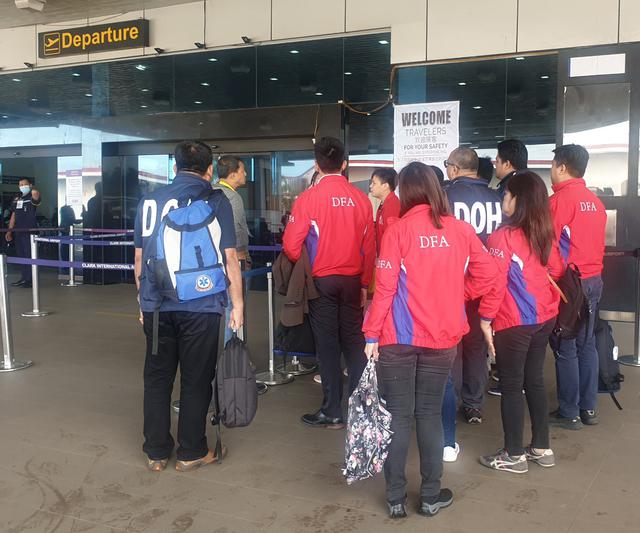 The eight-man team composed of Foreign Affairs and Health officials arrives at the Clark International Airport in preparation for their flight to Wuhan, China tonight. /DFA Photo
Undersecretary Sarah Lou Y. Arriola said the team has had experience in repatriation operations and has been briefed and prepared for the assignment. They have undergone simulation exercise at Clark International Airport a day before their scheduled trip "to ensure fast and efficient operation."
On their way back, the DFA team will help the repatriates to complete immigration documents and other requirements.
The flight crew will also be subjected to the required 14-day quarantine period.
Sources said the Royal Air flight is scheduled to arrive Clark International Airport Sunday morning.
[Cover: DFA-OUMWA Senior Special Assistant Olivia V. Palala (second from left) discusses details of the repatriation operations with DFA and DOH and Clark International Airport officials shortly before midday today. /DFA Photo]
(ASIA PACIFIC DAILY)